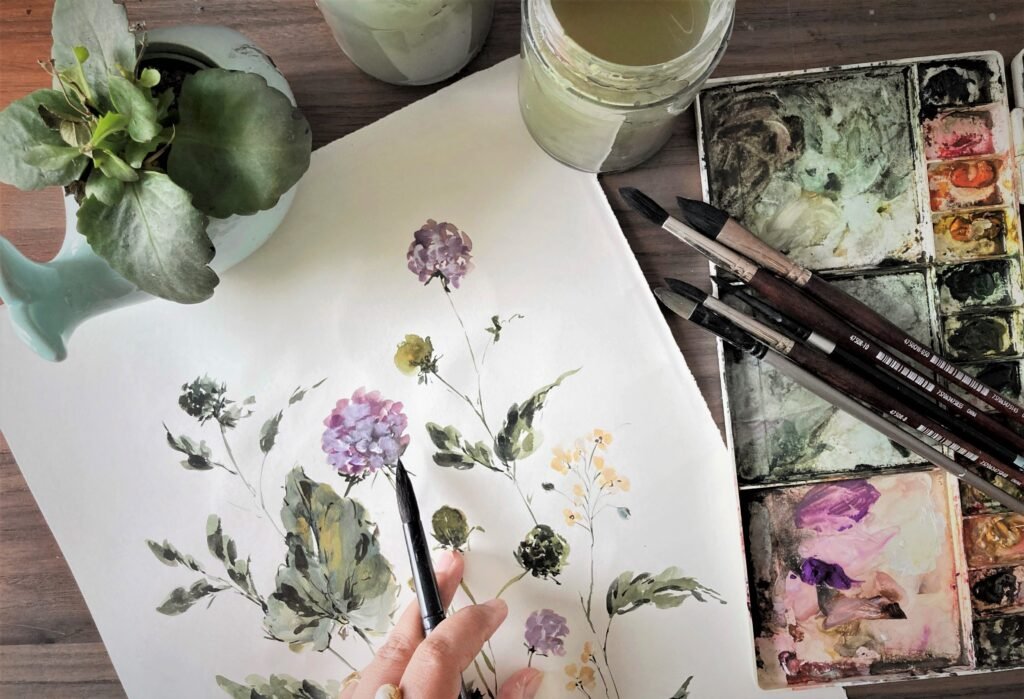 Hi! I'm Hina Mirza, Artist and Designer from India, based in the United Kingdom. Art has always fascinated me in a variety of ways, and I have been connected to it since when I was a little girl. I grew up scribbling, sketching, painting, fancying and demanding nothing but a brand new set of some different colors each time on my birthday.. ah the good old days!
I graduated in commerce, followed by a Masters in Information Technology.
My connection to Art grew stronger in the later phase of my life, when I decided to finally recongnize it as more than just a hobby. I explored a lot of different media, untill I discovered this magical medium – watercolour, and got hooked. My style is evolving in a better direction as I am able to accomodate a new medium recently, Gouache.
Deeply inspired by nature, my subject is mainly floral/botanical. I tend to be organic and playful with my brushstrokes, and enjoy the process without bothering much about the final outcome. Most of my artwork is digitally transformed into surface patterns and textile prints, and I find the process absolutely amazing.
I am mostly inclined towards sophisticated colour palettes, but open to broaden my perspective for my clients in the world of surface and textile design.
A lover of Tea, and I have a connection with the color green, which, I'm sure, is well perceived from my imagery.
Currently, I design on Freelance terms for London based Home and Fashion Studios, while having my own, ever growing portfolio of designs, available for Licensing, purchase or commission.
My original artwork is all available for sale, and I am open to create commissioned pieces.
If you'd like to collaborate, please get in touch. I'm all ears!